So you're interested in me? Let me tell you about myself.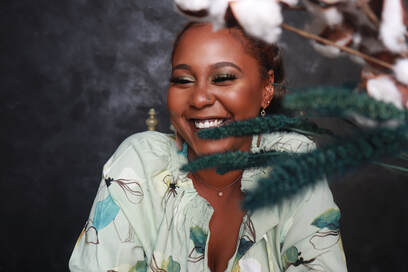 ---
My name is Ashley Milan Brooks and I am a Dayton, Ohio native with a background in the church and performing arts. Utilizing my assets, interests, and knack for spatial organization, I began developing a unique sense of self-expression and realizing my personal mission: to
enhance
both the lives of people and the environment through intentional design and planning of
habitable
and

sustainable
spaces.
To begin making these dreams a reality, I attended
Kent State University
in Kent, Ohio to study Interior Design + learn abstract design concepts that would introduce to me new ways of thinking about space as a fluid form of communication. To enhance my knowledge with a more technical and political perspective, I pursued a BA in Urban Affairs, concentrating on Urban Planning, at
Wright State University
in Dayton, Ohio. In this program, I learned to analyze cities in their entirety and acknowledge the factors that have influenced what they are globally, revealing many current + pressing issues varying from sustainability to ethical decision making.
Constantly striving to change the world and myself for the better, I am pursuing an MFA in Design and Research Development at The Ohio State University through Summer 2023. I am proud + thankful to have been awarded a Graduate Teaching Associate position that covers full academic expenses and allows me to teach + grade for undergraduate design students.
​During this program, I anticipate mastering my approach to ethical social design that considers and represents
any
and
all
types of people and lived experiences, prioritizing Black + marginalized communities, while learning more about life + myself in the process. The future may even lead me to pursue a PhD. in Design Psychology, but only time shall tell!
As important as all of that is, outside of education there is SO much more to me!

​Since early childhood, I have been heavily involved in church organizations like Choir, Dance Ministry, Vacation Bible School, the Announcement committee, and various other outreach programs throughout the community. Attending Stivers School for the Arts as a Theatre major during middle and high school, I developed a love for connecting with people + evoking deep emotion in a safe, intentional manner.

As a volunteer + young women's mentor for the YWCA of Dayton's Girls LEAD! program, as well as a participant in community-based events such as 2019 tornado relief efforts in Dayton, Ohio and the Hispanic Heritage Festival with Wright State University's Foreign Language Department, I realized how important it is to invest time + energy into future generations while also recognizing the potential + beauty that lies in the present. These perspectives not only helped me to understand + empathize with the world around me, but also encouraged me to be an active part of positive change.
​
My leadership and problem-solving capabilities have also become evident throughout my work experiences and hobbies. I have excelled in clerical, retail, and customer service environments, as well as have contributed to various event planning and programming related tasks with optimism and efficiency. Currently, I represent Metro Public Adjustment, Inc. as a Licensed + Bonded Public Adjuster Agent, as well as 5LINX company emphasizing their OXZGEN line of CBD products. Unoccupied by those tasks, I can be found recording and editing my original podcast entitled 'Honestly, I'm irritated.', listening to a variety of tunes, making memories with loved ones, or contemplating on the deeper meanings of life.

All in all, I am a dedicated, passionate, and committed woman aiming to change the world.

Join me on my journey to greatness!
I'd love to live + learn with you.
​
amb.
---
CLASS OF 2020 gRADUATE
BACHELOR OF ARTS IN URBAN AFFAIRS, WITH A URBAN PLANNING CONCENTRATION
WRIGHT STATE UNIVERSITY
FAIRBORN, OH
12.12.2020